Cathy Blake aka "Snoopycathy" shows up as part of the Runningbears Den harem somewhere around 2002. In 2005 she signs a wrestling guest book in her home state of Alabama with "Cathy and Diamond Brown" I personally questioned this women at Runningbears Den about this post and she told me "I was just playing a joke on Diamond's wife Robbie" However, when she was physically confronted by Diamond Brown's REAL wife (he only has ONE) Cathy Blake told her "I married Diamond on-line two years ago" Hmmmm... you have to wonder if Cathy thinks wrestling is real too?
The screen shots on this page display content and trademarks belonging to Internet Explorer©, Microsoft©, Google© Wrestle Birmingham.com©, and various other corporate and individual entities, and are archived here for the non profit, educational purpose of reporting and criticizing the activities of Public Figures in accordance with the "Fair Use Doctrine" which permits the copying of images or text for "criticism, comment, news reporting, teaching, scholarship, or research." The Photojournalist makes no claim to any of the archived subject matter in these pictures.
"On the Wrestling guest book, "SnoopyCathy" posts


"wish you could come up there to Cherokee, NC and wrestle .... Take care from Cathy and Diamond Brown"
Original URL:
http://www.wrestlebirmingham.com/guestbook.html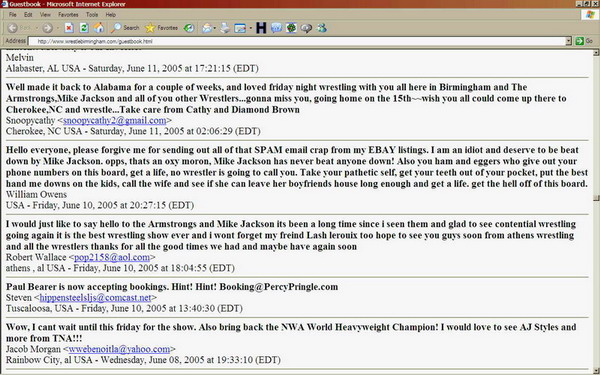 On the Freecycle list Cathy repeated states that her "Husband has Parkinson's Disease"

"money is short and with my husbands PD...can not afford new ones"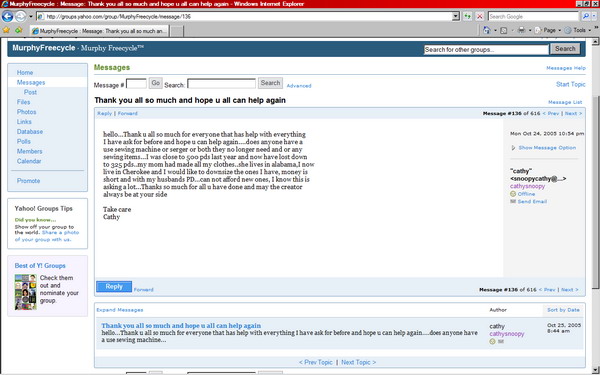 "my husband who has PD"
Original URL:
http://groups.yahoo.com/group/MurphyFreecycle/message/109
"I am need of a wheelchair for my husband, he has Parkinson's"
Original URL:
http://groups.yahoo.com/group/MurphyFreecycle/message/87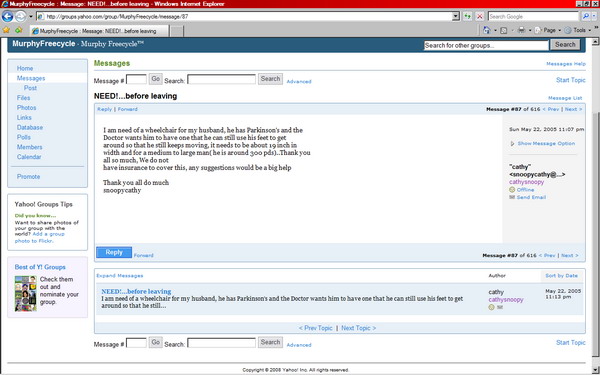 On the Runningsbears Den website, his "Yonvadisi" Journal, and many other lists, "Runningbear" states he has Parkinson's Disease.

"I reside in Cherokee, NC. I own a small craft shop that I run in Cherokee and I am an activist for my people. I have lived with the diagonsis of Parkinson's Disease for approx. 6 years."
Original URL:
http://yonvadisi.livejournal.com/2006/09/29
Here they are solicting public donatations for "Runningbear" who has "Parkinson's Disease"

WHO IS THE FULL BLOOD, ENROLLED CHEROKEE ELDER, HUSBAND, GRANDFATHER, UNCLE AND STORYTELLER FROM SNOWBIRD THESE DONATIONS ARE BEING COLLECTED FOR? WHERE'S THE INDIAN??

Original URL:
http://www.runningbearsden.com/store5/agora.cgi